"We're driven by the passion we have for our officiating avocation."
Game Film Services
ZebraWeb.org™ provides game film video services to sports team coaching staffs, officiating coordinators, observers and sports officials. These services are designed to expedite the sharing of game films as well as manage the process of breaking out penalty plays and attaching to officials game reports.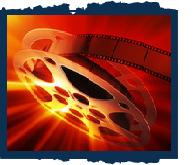 "Imagine having immediate access to game films thru the web…no more waiting for the film to come in the mail or driving half way to meet that other coach."
GAME FILM EXCHANGE SERVICE
ZebraWeb.org™ Game Film Exchange Service has been developed to provide Sports Teams Coaching Staff the ability to exchange game film videos, with other teams, thru the web.
Highlights of this service offering are:
Drastically minimize the time to get opponent game film into your coaches hands
Central server model
Ability to upload, store, view, exchange and download game films that you have uploaded or have been granted access to by other teams
Grant other Sports Teams access to your game films
You're notified by email when film access has been granted to you by another team
Provide user IDs for entire coaching staff
Integration with ZebraWeb.org Game Film Penalty Breakdown Service (breakdown of penalty video clips and correlation to officials game report) within ZebraWeb.org Sports Officials Operations System
Subscription based service available to leagues, conferences, sports associations, officiating organizations
Digital video camera, PC & editing software packages available
**********************
GAME FILM PENALTY BREAKDOWN SERVICE
ZebraWeb.org™ Game Film Penalty Breakdown Service has been developed to provide Teams, Officiating Coordinators, Observers and Sports Officials the ability to view penalty play video clips, attached to Officials Game Reports, via the web.
Highlights of this service offering are:
ZebraWeb.org™ film breakdown team extracts penalty plays from the game film and attaches the play to the ZebraWeb.org Officials Game Report for immediate viewing of the play.
Available for Official Coordinators, Teams, Sports Officials and Observers to view usually within 24 hours after game completed.
Secure access based on League, Team, Officiating association
Observers can review full game film on line thru ZebraWeb.org™ video player, no need to download game film video
Full integration with ZebraWeb.org Sports Officials Assigning System™ & ZebraWeb.org Sports Officials Operations System™